The Best Collection of Engraved Gifts for Christmas Eve !
Mustafa Shikari
Finding the perfect gift for your loved one is quite a handful. Moreover getting hold of a gift that is unique, personal, actually useful and not insanely expensive is a different mission altogether. Though any kind of gift is considered very heartfelt and cherished always, a personalized gift captures your heart at once. Nothing can beat the emotion behind a gift that is specifically made for you.
Speaking of personalized gifts, there is no better occasion to give a very special and customized gift to your loved one than on Christmas. It is practically the occasion of gifts and making someone feel special and loved. If Christmas is all about giving gifts, the gifts have to match up the level of joy and bliss as well. Here comes the tough part, finding a perfect gift amongst a sea full of them. This is when we come to the personalized gift matter – make your special person feel more special and joyful by gifting them a personalized engraved gift this Christmas!
Let us look at some ideas that can help you in finding and choosing the best kind of engraved gift that suits best for Christmas eve. Here it is –
1. NAME PLATE
Just as invitations are mandatory for events, the same way a name plate is mandatory for your front door. Gifting an engraved name plate to someone is a gesture that is rarely undertaken. Whenever the person will look at the nameplate, they will definitely think of you. You can give them a wooden cutout in any shape you like with their family photos and a lovely message for the family engraved in the middle. This way, you are sure to never be forgotten and always remembered.

2. CHRISTMAS TREE
Since we are talking about Christmas gifts that are personalized and engraved, what better way to reminisce about Christmas than by gifting your special one a Christmas tree. You can have a wooden piece carved in the shape of a Christmas tree and then engrave a nice and beautiful Christmas message or you can even have the name of the person engraved on the tree to whom you're gifting this one of a kind present.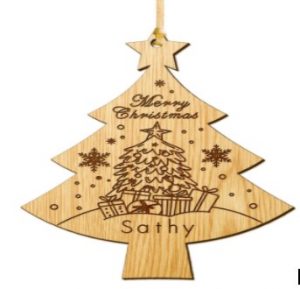 3. WIND CHIME
That tinkling sound of a wind chime surely puts you in a trance every time you listen to it carefully. It is a very special and innovative gift that you can give to someone. Moreover, if this special gift is engraved and personalized, it adds up quite a personal and distinctive gesture and also makes the person feel really special. You can have the name of the person engraved on the wind chime rods or even a sweet and small message from your side can be engraved.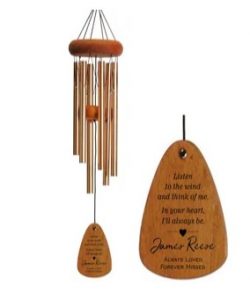 4. PHOTO FRAME
There is no better way to allow someone to reminisce about the moments they spent with you than by gifting them a photo frame. Those photos make sure to bring a smile or laugh along while you happily remember the good old days. The photo frame can be engraved with messages like 'THEN AND NOW', 'THOSE WERE THE DAYS', or just the names of the people that are present in the photos. This way all your happy memories are sure to make you feel blissful.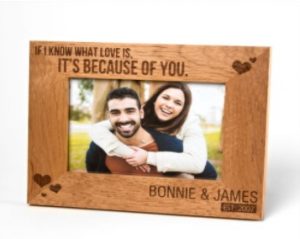 5. COASTERS
Now this is quite a creative and unique present for Christmas. You have a variety of choices to choose from when deciding what can be engraved on the table coaster. It can either be a Santa Claus, Christmas tree, a reindeer or even a small Christmas quote. You can never go out of choices when selecting messages for Christmas. This can be gifted to tea and coffee lovers who will use it every time thinking of you and your sweet gesture.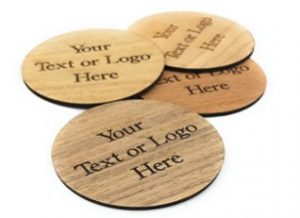 Christmas is around the corner and so are people waiting to get their gifts and presents. While everyone is pondering over 'who gets what', you can relax and think about all the gifts that have already been decided. Wondering where to go?
We are here to help you get just the right present for Christmas. Get your unique personalized engraved gift to give to your loved ones this Christmas from Fixperts Shop. We are a one-stop shop that provides around the clock service to fix your valuables across a wide range of categories. To know more about us, call our Toll Free number – 80081 or visit us at our office on Level 2, Mall of the Emirates, Dubai.